For those who want to do monthly budgeting properly, you can use this monthly Cashflow Chart form for Personal Finance Calculation. So that you could overview and monitor all your incomes and expenses in one sheet.
download the Cashflow Chart format in in LibreOffice Sheet ODS format .
(you can download LibreOffice here for FREE of charge and FREE to edit the Cashflow Chart format.)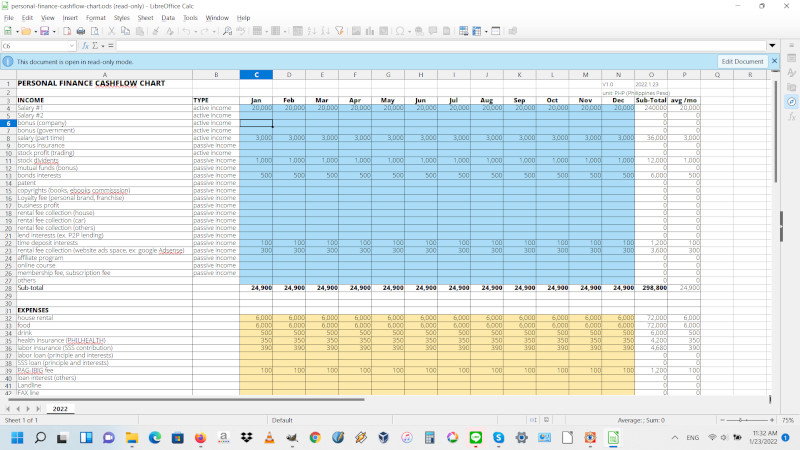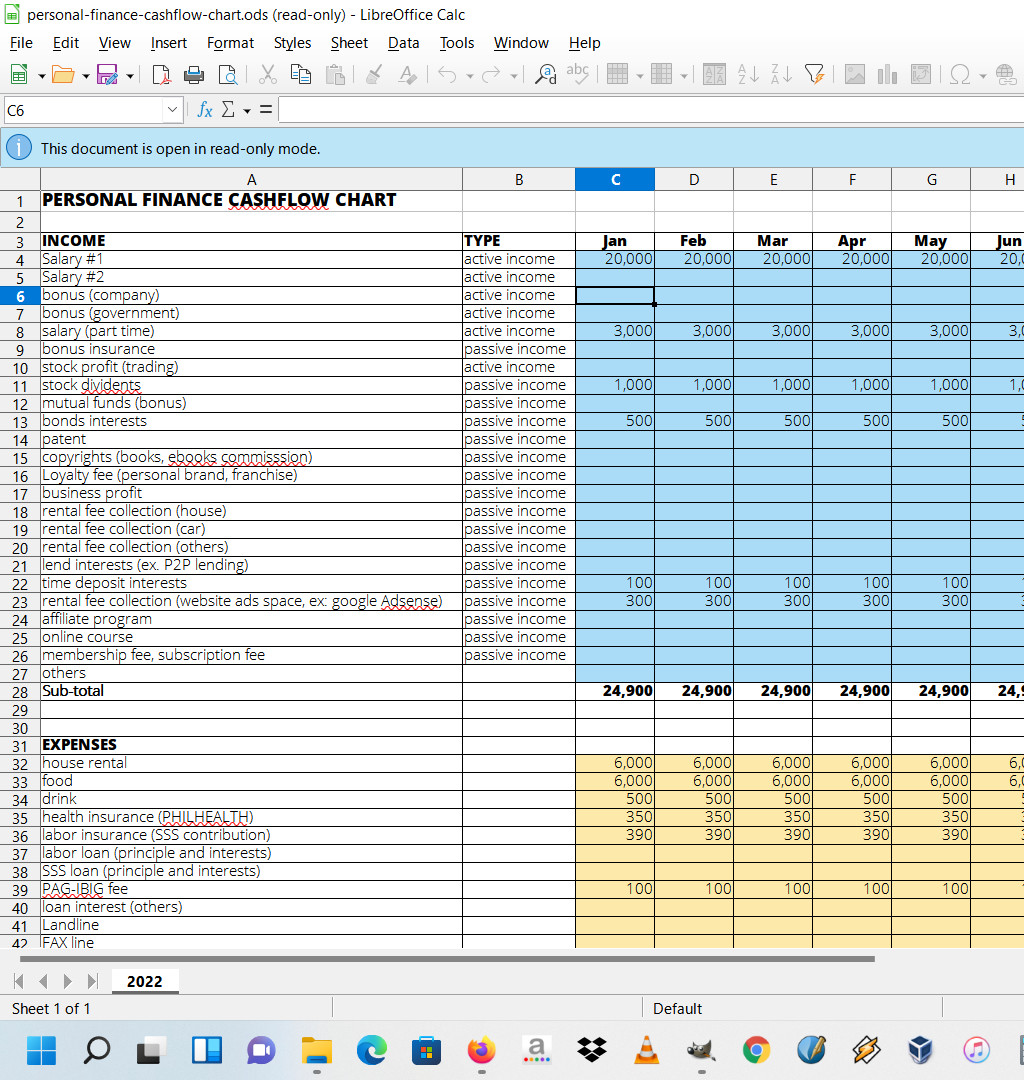 INCOME item includes both active income and 8 passive income streams :

salary #1
salary #2
bonus (company)
bonus (government)
salary (part time)
bonus insurance
stock profit (trading)
stock dividents
mutual funds (bonus)
bonds interests
patent
copyrights (books, ebooks commisssion)
loyalty fee (personal brand, franchise)
business profit
rental fee collection (house)
rental fee collection (car)
rental fee collection (others)
lend interests (ex. P2P lending)
time deposit interests
rental fee collection (website ads space, ex: google Adsense)
affiliate program
online course
membership fee, subscription fee
others


EXPENSES item covers almost all necessities and non-necessities like personal improvement travel, books and magazines :

house rental
food
drink
health insurance (PHILHEALTH)
labor insurance (SSS contribution)
labor loan (principle and interests)
SSS loan (principle and interests)
PAG-IBIG fee
loan interest (others)
Landline / Telephone
FAX line
Mobile phone subscription fee
Internet Fee (broadband, pocket WiFi SIM)
TV subscription fee (cable, satelite, etc)
transportation fee (jeepney, tricycle, taxi, etc…)
car plat registration fee (renewal)
car fuel tax
car insurance
car fuel
car examination
car maintenance
motocycle registration fee (renewal)
motocycle fuel tax
motocycle fuel
motocycle insurance
life allowance to parents
Life Insurance fee (myself)l
Life Insurance fee (mother)
Life Insurance fee (father)
Life Insurance fee (siblings)
Credit Card installment #1
Credit Card installment #2
Credit Card installment #3
hair cut & salon (makeup, cosmetics)
medical fee (examination, medicine, treatment, etc…)
travel
books & magazines
entertainment (KTV, CD, etc…)
clothes (Fashion and accessories, shoes, etc…)
birthday party fee (food and cakes, decorations)
kids tuition fee
kids custume fee
kids clothes and shoes
kids entertainment (toy etc…)
others
savings (force to save money)
emergency fund (savings)

Balance
* This cashflow chart format is well set with calculations for sub-totals and balance and average amount per item. And it's good for doing monthly budgeting.