This is an article about business digital marketing.
If you are reading this article, it is because you surely have a company or are thinking of opening one.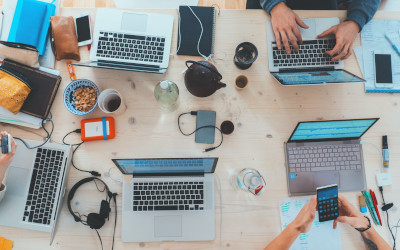 In the first case, perhaps you feel that the business could be much better and you want to find a way to have more customers. In the second case, you may not know in which direction to take the first step or how to make your business stand out among so much competition. Perhaps you fear that, when you establish your business, there will be more empty chairs than sales on the day. Thinking that is perfectly normal, but fortunately, there are ways to prevent that from happening. And it is through a good digital marketing campaign for companies.



For this reason, in this article we will tell you about the digital marketing strategies for businesses that will give your business the necessary boost. Grab a notebook to take notes and let's get started.
1. Create a web page


Let's start with the first step, essential for all businesses: creating a successful website. Statistics indicate that there are currently more than 4.5 billion people who have access to the world wide web. While 2.05 billion buy a product or service on the internet, according to Statista.

If you want to reach at least part of that figure, it is important that you make your own space on the internet. To achieve this, you must create a website for your business. When you are about to create your website, we recommend that you take into account the following items:


Choose an attractive design


First of all, it is important that the visual design of your website is attractive to users who visit it. According to a study published by Adobe, 66% of people prefer to visit a page that is visually interesting and attractive. Therefore, we recommend using colors that attract users and that do not bother them when browsing. Some studies ensure that people prefer combinations of 2 or 3 colors, maximum, with blue being one of the most chosen colors.

Another important aspect is to take care of the typography and its size. The recommended minimum size for a website is 16 pixels, as smaller text can be more difficult to read on a screen, especially on a smartphone.

Finally, use quality images that match the aesthetics of your web page, but in low quality. This will allow the web page to load quickly. If it takes a long time to load, the user will leave the site early.


Upload information about your products to attract consumers


A digital marketing strategy for companies that can give good results is to upload the menu (if it is a restaurant), or at least images and a brief description of your best products or services. Thus, people will be able to see your products and will be encouraged to visit your business. Whether you upload the menu or upload photos of your products, try not to make the images too heavy so that the site loads faster.

Also, keep in mind that the photos must be clear and as faithful as possible to the dish you are selling.


Includes various forms of contact


Something that should not be missing on your website is a section where your contact information is, or at least a form so that they can write to you. We recommend that you include at least a phone number, an email address, and a physical address on your website.
2. Use social networks to publicize your company


Today, social networks have become very important in people's lives. According to a study by Global Web Index, 54% of people use social networks to search for a product or service before buying it. So, what doubts do you have about including social networks in your digital marketing strategy for businesses? You can start by creating an account on the main platforms: Facebook and Instagram. Of course, depending on your audience and your type of business, you can include some more social networks to increase your digital positioning.

Here are some tips that can help you with your social media strategy:


show your business


If your goal is to sell, then you need to show the world what you have to offer. Share images and videos of the products or services you sell, and you will surely end up empathizing with your followers. Also, show your followers what your place is like, the facilities, the employees, how the products are prepared, etc. The more information you show about your company on social networks, the closer you will be to your future client.



Interact and create links


A good way to achieve this is by activating the Facebook reviews section. Thus, customers who visit your business can leave a comment about the products or service you provided. It is also recommended that you pay close attention to the comments and mentions you receive on each of your social networks. It's not enough just to "like" the comments you receive. A good digital marketing strategy for businesses includes true interaction with your followers.





3. Take advantage of seasonal marketing to carry out special actions


This strategy consists of taking advantage of an important holiday or time of the year (such as Christmas or Halloween) to offer special products and services to customers. In general, on certain dates something is given to loved ones or an event is commemorated, so what better way to take advantage of that occasion to carry out promotions, special publications, discounts and even decorate the web and social networks with the celebrated reason? As a food and beverage seller that you are (or will be), you can use this strategy so that your business has a greater influx of customers at certain times.

Here are some tips:

Help yourself with a calendar so you don't miss the dates

Be guided by your clients to know which dates are important to commemorate

Do not always apply the same discount or always make the same promotion

Get creative with promotion




4. Launch a customer loyalty program


Attracting new customers is tempting for a business, but by no means should you forget about the people who have already bought from your business. In other words, you have to retain your current customers, and there is a really cool way to do it: through a loyalty program.

An example is the Starbucks loyalty program, which consists of a person requesting a card with which he accumulates stars (or points) for each purchase he makes in said business. These stars can be exchanged for products or promotions. Simple, right?

The main rule for this program to be successful is that it is easy to understand and redeem. For example, you can award 1 point for every dollar of consumption in your business. And you know what? Although physical cards are excellent forms of advertising, if you want to reduce costs, you can make this program 100% virtual, without physical cards or cards.

In deciding what to give your customers as a reward, the secret is to choose products that they might want but won't have as hard to get. So, try not to set conditions that are impossible to achieve. A simple but achievable prize is better than something difficult that discourages them.

Very good ! So far we have seen some of the most important marketing strategies for retail companies. But clearly, they are not all. A lot of other things can be done to boost your business.



 





Achieve success with a marketing agency

It is always advisable to work with an agency because it allows you to delegate digital marketing tasks to professionals who provide their development and analysis tools, in addition to implementing their strategic skills and experience, to achieve the objectives set.



From the perspective of digital marketing company, they create a personalized project for your business and designed to attract more customers to your site, increasing your visibility and your web positioning. They create a different and fresh profile of your personality and your products. They work to position your site in Google, creating and optimizing not only interesting campaigns for the client, but also sites that deserve to be visited and comply with search engine policies. Their professionals will help you create your ads, advertisements, and thus increase your online presence through SEM, SEO and social media positioning.

In addition, we take care of managing all the digital marketing of your company in a unified and coherent way. Some of the actions we carry out are:

Web design.
Consulting in digital marketing.
SEM web positioning (Adwords).
SEO web positioning (organic).
Social media management.
Content marketing.
Advertising on Facebook,
Linkedin and Youtube.


Work methodology

Meet every week to together develop a successful model that generates more traffic to the website and thus be able to increase sales conversion, centralizing all the company's marketing and growth strategies in a single provider. Analyze metrics, content, online marketing and KPIs to see what we do well and what can be improved even more, all within an adaptable and scalable marketing plan.


They work with the most complete free and paid marketing tools on the market. This allows them to find and analyze the best keywords for your project, monitor how the site is evolving and detect variations in positioning to boost inboud marketing.

Benefits of hiring a marketing agency

In case there are still doubts about why to hire a marketing agency, you could ask marketing agency to present some of the advantages that you will obtain when hiring a specialist in digital marketing for companies:

Better analysis from an external perspective:

hiring a digital marketing specialist will give you an external view of your business, the aspects to improve, the opportunities for improvement and the advantages to promote.

Professionalism:
a specialist is constantly learning and updating on the relevant issues of digital marketing. Delegating this task to a professional will allow you to focus on other business issues.

Optimize resources and time: increase the productivity of your company by making better use of resources. Return on investment: you will get a higher ROI by working with a team specialized in digital marketing consulting.

Final, contact your digital marketing providers nearby your region for more information about our digital marketing services for retail companies and other areas. Let the outsourced service providers do the job for you !