It is very important to set up a company's own brand website. Own brand websites can bring you at least three major benefits: (1) Build brand image, (2) Improve brand authority, (3) SEO optimization.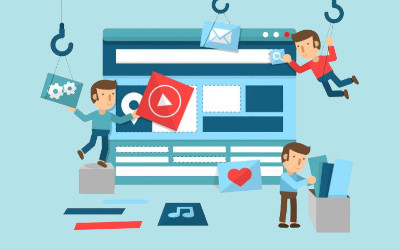 * This article is sponsored by OMARMAR Inc. - Discover Digital Marketing Agencies arounnd the world.


People often ask: Is anyone still browsing the website now? At first, I was surprised to hear it, but after looking back at the customer's existing website, I quickly understood the reason. It only takes 0.05 seconds for website visitors to form the first impression of your company website and decide that they want to continue to understand your brand, your products or your services. Therefore, dozens of elements such as website design, content richness, download speed, picture resolution, and ease of browsing the website on mobile phones/tablets will determine whether visitors are willing to stay and learn more.

So the right question is not "Is anyone still viewing the website now?". The importance of the website covers brand image, potential customer development, search engine optimization, market education, new leadership, customer service, etc. Not only has its importance not declined, but with the progress of website and Internet technology, it has become more and more important. The correct question should be "Is anyone still viewing MY website now?".

According to the Hubspot survey, in the international market, visitors who came to the website through natural search and contacted the company for product information have a 14.6% chance of becoming customers. But this is not enough, quality is the key. 75% of people will leave the website because the speed of the website is too slow, and 75% of people will judge the brand value based on the design of the website. More than 38% of people are unwilling to stay on unattractive websites. From these data, it is revealed that if a company wants to seize Internet traffic, aside from having its own website, it also has to make the website "good" in order to realize the value of the website and brand.

A good website that can attract potential customers to visit and is willing to return visits usually has the following elements:


Excellent user experience (UI/UX)


The user (person) is the most important thing for a website. If a user comes to your website and finds that the download speed of the website is slow, the line is not clear, and the website is not user friendly, then it's not only will the user's stay time be shortened, but also possible visitors won't come back anymore. That will affect your SEO ranking.

Also note that due to the increasing popularity of smart phones, up to 70% of users tend to use mobile phones to browse websites and perform other searches in 2019, so whether your website is mobile-friendly ) Is also an important criterion for users. Therefore, it is generally recommended that companies choose to set up responsive websites (Responsive Website Design, RWD) to improve user experience.


The topic is clear and rich in content


Users search and browse the Internet, hoping to find information that can solve problems and inner doubts. At this time, if your website can play such a role, it will gradually attract many users to visit your website.

So how to formulate the topics and content of the website? It is recommended to first think about corporate positioning, and then regularly produce industry-related content and information to interact with potential customers browsing the website. Once they think your content is helpful, it is easy to facilitate sharing, message and interaction, and indirectly spread brand awareness!


Make good use of pictures and videos on the website


Humans are visual animals. A content with both graphics, text and images can win more than 650% of the attention compared to content or pages with only text. Therefore, we also recommend that companies put appropriate graphics or dynamic static images on the website to increase the willingness of website visitors to stay.

On the contrary, you are reminded that proper white space is also very important. There was also a website visitor who left the website because there were too many images on the website that he could not find the information he really wanted, which caused the opposite effect. This is definitely not something you like to see.


Set up a brand website for your business now !

Let an excellent website be your first stop on the Internet!