As globalization progress moving on and low birth rate in Japan, working abroad in Japan is now made possible and popular for foreigners. You can check out these Work In Japan Websites and find some valuable opportunities, full time and part time.
-----
* This article is recommended by WeXpats Jobs - Jobs in Japan for foreigners.

Our service:WeXpats Jobs
Our Web site:https://we-xpats.com/en/job/as/jp
*Click on the Language tab and you can access by your language !
*Search by where to work, or approach by Japanese skills.
*Have Job offers over 20,000; supported 11 languages.
-----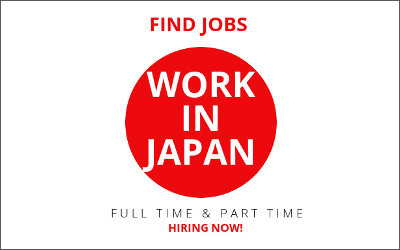 Work in Japan
GanbatteruMinna101
https://www.facebook.com/GanbatteruMinna101/

Mobile: 08092531288
Messenger: https://m.me/GanbatteruMinna101

* A company that values employees
Yolo Japan
https://www.yolo-japan.com/
https://www.facebook.com/yolojapan/

https://m.me/yolojapan
Email: This email address is being protected from spambots. You need JavaScript enabled to view it.

* A company that offers support for foreign nationals in all areas of Japanese life. Whether you want to find a job,study Japanese,go somewhere fun,or need help at the hospital,YOLO JAPAN will provide everything you need for your daily life.



Jobs in Japan
https://jobsinjapan.com/
https://www.facebook.com/jobsinjapan/

Address:
Spectrum Consulting Japan G.K.
Tokyo Office:
C/O Global Village Media
1-7-20-B2 Yaesu, Chuo-ku, Tokyo

Messenger: https://m.me/jobsinjapan
Email: This email address is being protected from spambots. You need JavaScript enabled to view it.

* Jobs in Japan has been a key resource for foreigners looking for work in Japan since 1998.



GaijinPot
https://jobs.gaijinpot.com/
https://www.facebook.com/GaijinPot

* GaijinPot is a website dedicated to helping people get the best experience working, studying, traveling and living in Japan.

* Company Overview
The team behind GaijinPot is made up of 14 different nationalities working to support foreigners in Japan. Whether it's help with scoring a job, organizing a language school placement or finding housing, our services are designed to provide everything people need to build a successful life here. Since the site was launched in 1999, we've also been busy creating a mine of useful content through our blog and, more recently, our online travel guide.




DaiJob.com
https://www.daijob.com/


* Want to work in Japan? Looking for jobs in Japan? Daijob.com is here for you !


Work Japan
https://www.workjapan.jp/
https://www.facebook.com/workjapan.jp/


* Find work in Japan ! A job matching app for foreigners in Japan.

* WORK JAPAN is a Job Matching platform for foreigners to find better jobs in Japan. Up Lift your Life with WORK JAPAN !


CareerCross
https://www.careercross.com/
https://www.careercross.com/en/job-search
https://www.facebook.com/CareerCross/

* C.C. Consulting Co., Ltd. is an online recruitment advertising management company that established a bilingual career change website, CareerCross, in September 2000. Through the operation of CareerCross, we provide recruiting resources using the web to companies operating mainly in the Japanese market. It adds active marketing, global advertising, top-level services to the Internet, and focuses on domestic bilingual and overseas Japan-related jobs, and is economical. We strive to provide a web-based recruiting solution that can be used at a low cost.



Japan Dev (japan-dev.com)
A job board that features hand-curated tech jobs at modern companies in Japan.
Most jobs are for software developers and programmers, but we also
post jobs for designers, product managers, and anyone else that works
directly with a dev team.